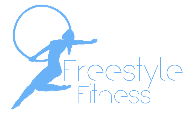 The Freestyle Fitness studio was the first of its kind to open in Lincolnshire in 2011.
Offering a range of classes to suit all ages and abilities.
5 x-stage poles. Suitable for static and spinney pole techniques.

Silks.

Single, Double and Zero Point Lyras

Aerial Slings

0 point lyra on swivel hook

3 x Dance Trapeze

Aerial Hammock

Aerial Rope

Flying Pole

Aerial Spiral

Aerial Cube

Aerial Chains

Lollipop Lyra

10 Punch Bags

Fixed Fight Cage

Range of Striking Pads and Targets

High density foam matted area

High density foam additional crash mats

Good quality sound system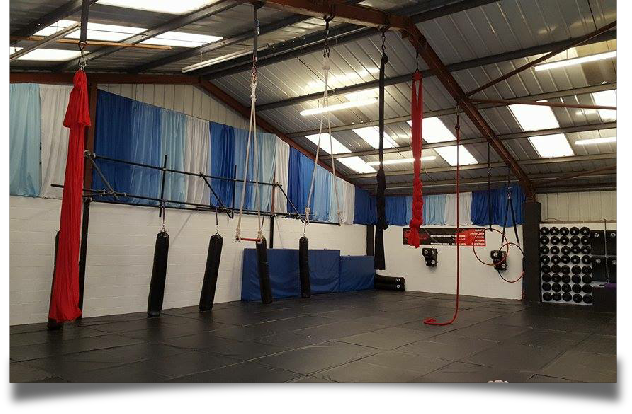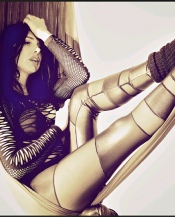 Emma has been teaching pole for almost 19 years and discovered aerial arts in 2008 after taking one of her daughters for an aerial training weekend at Greentops Circus in Sheffield. By 2010 she was hooked, so approached Russell's International Circus, and began her aerial journey there. Later that year, Emma opened Freestyle Fitness in Louth, Lincolnshire. Since then she has gone on to perform and coach aerial arts, specialising in aerial silks but also teaching lyra, static trapeze, aerial hammock, sling and flying pole. Unfortunately now at 44 years old with a range of chronic health conditions Emma has very limited ability to train so no longer performs, but she still loves to coach, teach and choreograph at Freestyle Fitness and has trained several national and international title holders as well as directing group performances and shows. In 2021 Emma set up Creative Heights, a non profit organisation dedicated to bringing contemporary circus to the rural communities of Lincolnshire by providing a range of artistic learning, participation and engagement opportunities and being instrumental in developing contemporary circus within the region using collaborative cross-arts projects that inspire and generate new ideas about what circus can be.
Emma also started the UK Aerial Performance Championships in 2014, with the help of Russell's International Circus and it has become one of the biggest aerial arts competitions in the world!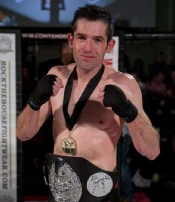 Chief Instructor & founder of Optimum MMA, Sean Byrne, has been involved in Martial arts since 2002 after leaving the Royal Air Force. His background is in traditional Martial arts (Tai-jutsu) however after moving back to Louth he began studying Taekwondo & Kickboxing and achieved his black belt in both of the arts. Sean has always been one of Louths most active Martial artists, achieving success in local and National Kata, points sparring & light contact competitions. However in 2012, Sean made the step up and started a career in Full contact fighting & MMA, where he amassed a 7-1 record. He retired from active competition in 2015 as the Contenders Amateur K1 Lightweight Champion and Machine MMA Welterweight champion.
Sean is a 3rd degree black belt in Taekwondo & a 2nd degree black belt in Kickboxing. He also holds a blue belt in Brazillian jiu-jitsu under the Gracie Academy & Grimsby Gracie Jiu-Jitsu. He is a fully qualified instructor and dedicates himself full time to teaching Martial arts and all the classes at Optimum MMA. In the past he has worked with children with Learning difficulties and local schools. Seans goal is to help people on their journey in Martial arts and to reap the benefits from it as he has.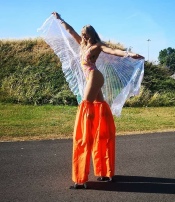 Kaiya has been training aerial since she was very young. She initially started her aerial journey on silks and winning the amateur silks category of this competition in 2014. However from 2015 onwards Kaiya has focused more on trapeze and won the amateur open category in 2015. Kaiya had a year out of competing in 2016 to have her daughter Isabella but then went on to become a 3 year champion in the UK Aerial Performance Championship by placing first in the amateur open category of the 2017, 2018 and 2019 competitions as well as placing first in a few hoop competitions. Kaiya then placed first in the new professional performer open category in UKAPC 2022 after starting performing professionally on aerial. Kaiya also works as a stilt walker and fire dancer.
Kaiya teaches pole, burlesque and chair dance for Freestyle Fitness as well as providing fire dance and stilt walking workshops.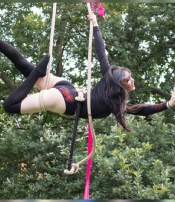 Grace started training in aerial arts when she was seven years old and has since gone on to win a range o national and international titles on both silks and trapeze. The most recent being both the Professional Silks and Professional Open categories of the UK Aerial Performance Championship 2023. Grace completed the Xpert Silks Instructor training in 2019 and since then has been teaching workshops at a range of festivals and events. Grace started performing professionally in 2020 and has created a variety of acts for herself and for other performers as well as taking part in group performances and projects.